NHD series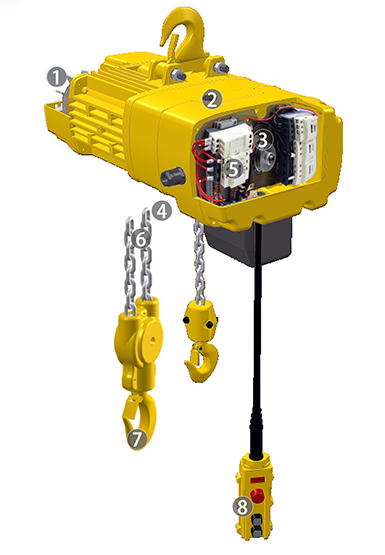 NHD-050-1/NHD-100-2/NHD-100-1/NHD-200-2
1.Motor and Brake
1).IP55 TEFC motor, class F insulation, good thermal performance.
2).DC motor brake : with two-side single disk brake, electro-magnetic brake actuates synchronously in the event of power failure to ensure the operation safety while loading.
3).Total enclosed construction, withstands harsh conditions like those found in chemical, and electroplating environments. 4).Asbestos-free brake to meet international request.
Over-Heat Protection
With built-in heat detector, when motor's inside working temperature reaches 140(±5)°C, the protection mechanism will trigger, and not allow lifting the load. Instead, it permits coming down to release the load.
2.Load Sheave
5 pockets on the load sheave ensures positive chain link seating resulting in smoother lifting.
3.Mechanical Brake and Overload Limit Clutch System
1).2 in 1 design, have the dual function of mechanical brake and overload protection system is good and it prevents the burn-out problem with some high frequency operations of much inching to precise and gentle load positioning which involves many pendant control / contactor / electric brake coil activations.
2).Mechanical brake collocate motor brake which provides fast braking function.
3).Friction Clutch prevents damage from overloading.
4).Easily adjusted by the gear box outside overload setting.
5).Ensure operation safety and product life time.
4.Limit Switch
Upper and lower gear limit switches are fitted to switch off the power simultaneously in the case of over lifting or lowering position.
5.Control Panel
Phase Error Relay
Phase protection, in case of any phase missing or incorrect, the hoist will not be in active, ensuring the safety and durability to all Components.
6.Load Chain
Grade 80 hardened and galvanized alloy steel chain, endures harsh conditions such as rain, saltwater and chemicals with minimal wear.
7.Hook
1).Hot forged from high tensile steel.
2).360° rotated.
8.Pendant Control
High protection grade IP65, fully water-proof, insulated, and impact resistant.
---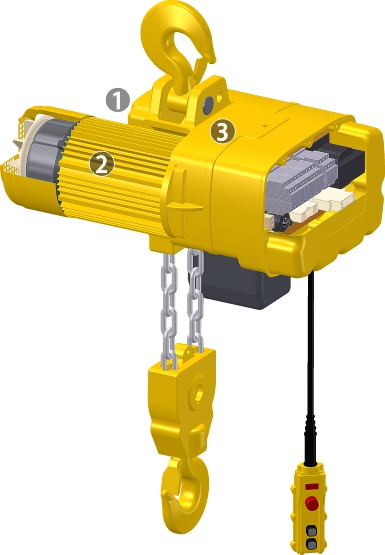 NHD-200-1/NHD-250-1/NHD-300-2/NHD-500-2
1.Gear Limit Switch
1).Use for NHD-200-1, 300-2, 500-2 three items.
2).Multiple 4 steps adjustment designed. It has practically limitless applications in regulating hoist operation to prevent potential incidents. It can precisely control stopping point at any positions in lifting range.
3).Patents:
Taiwan patent no. M466909
German patent no. Nr. 20 2014 006 109.2
Japan patent no. 3193570
China patent no. ZL 2014 2 0395985.8
United States patent no.US 9263201
2.Motor Assembly
High precision and rugged motor housing is made of aluminum extruded alloy. Motor coil can be disassembled easily when need to repair.
3.Load Sheave & Chain Regulator
Easy to disassemble and re-assemble,convenient for maintenance.