YSA-2500~YSA-5000 series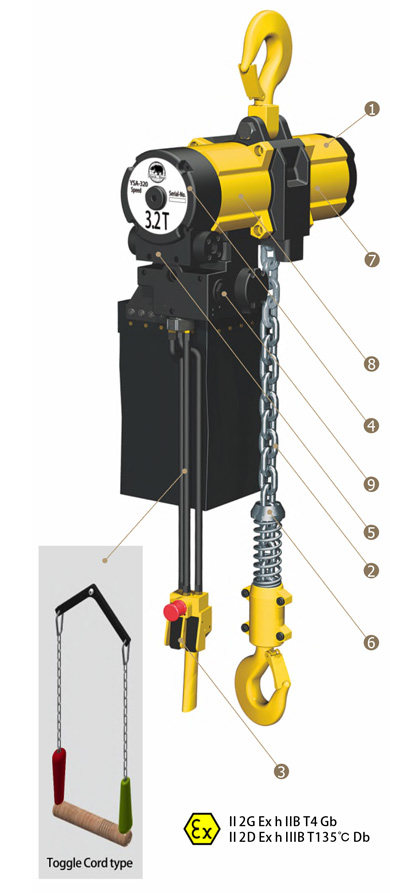 1.Gearbox
Sealed planetary gearbox complies with heavy duty cycles, gears are heat treated and mounted on high strength low friction bearings to extend its life span.
2.Load Chain & Chain Guide
G80 load chain applied. The chain guide leads load chain working rapidly and smoothly on sprocket without twisting.
3.Controller
Toggle Cord (TC) & Pendant Control (PC, Optional) for users choice. They can offer dual speed control with accurate & precise positioning of loads.
4.Brake
Non-asbestos disc brake is applied automatically when the air shut-off.
5.Main Air Supply Shut - Off Type Overload Limiter System

Two overload limiter devices for extra safety - a Mechanical Clutch type [MCT] (Optional ) & a Main Air Supply Shut-off [MASSO] valve type ( Standard).
These devices are pre - set at the factory to an overload limit capacity value of the hoist rated WLL x 125% and are adjustable.
The main air supply shut - off overload limiter deviceMASSO valve which is integrated into the air motor monitors the air pressure differential between the incoming air pressure and the exhaust air pressure.
When the overload limit capacity is reached the reduced exhaust air pressure is sensed and the higher incoming air pressure over comes the valve spring tension and closes the valve thereby closing the supply of air to the brake which then engages. However the hoist can still function in the DOWN mode to allow the load to be lowered.
6.Upper and Lower Load Chain Travel Limit Switch System (LSS)
To ensure that the load chain and hoist body are not damaged which can compromise safety, it is essential to limit the maximum up/down travel limits of the load chain and load hook.
Chain stops are attached to the load chain at the UP/DOWN travel limit points on either end of the load chain. Such Chain Stops activate the limit switch when the UP/ DOWN chain travel points are reached.
When activated the limit switch mechanically closes the main air supply control piston to stop the air supply to the air motor.
When the hoist is operated in the reverse direction from the limit point the pressure on the limit switch is released which allows the main air supply control piston spring to open the main air valve and the hoist to operate.
Such LSS is incorporated into both the pendant control and toggle cord operating control types of YSA hoists.
7.Hoist Housing
High strength FCD cast-iron housing ensures shocks, bumps and corrosion resistance.
8.Air-Lift Motor
Motor rotor vanes are lifted by specially directed compressed air stream ensuring high starting torque and optimum motor performance.
9.Emergency Stop Device (Optional)
The air stream from either the Red or Blue hose ports, as indicated above, operate and activate the Emergency Stop Valve when the Emergency Stop Button on the Pendant Control Handle is depressed.
On activation the Emergency Stop Valve located on the air motor housing shuts-off the incoming main air supply to the air motor.
---
With increased spark protection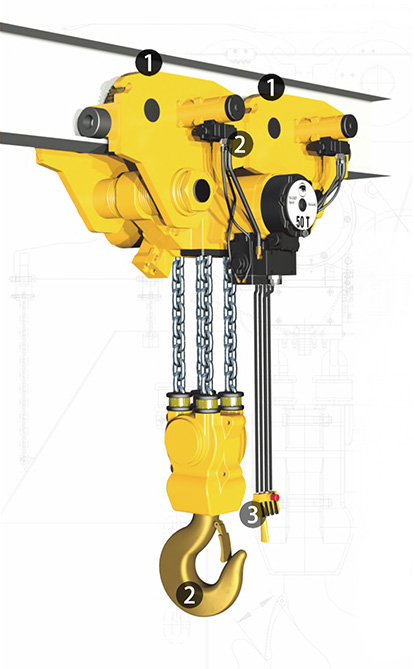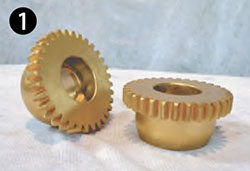 1.Drive Wheel / Idle wheel
Alloy steel, Bronze coating
Optional : Stainless steel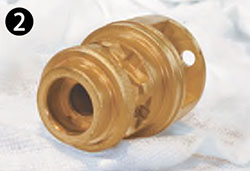 2.Upper Hook / Bottom Hook, Load Sheave
Alloy steel, Bronze coating
Optional : Stainless steel
3.Pendant
Material : Gunmetal